SPEXEL NOW COMPATIBLE WITH WORDPRESS 3.5+ VERSION
Spexel is a slick, clean, and elegant theme for WordPress that has various of theme positions such as an image gallery, featured content block and featured image slideshow.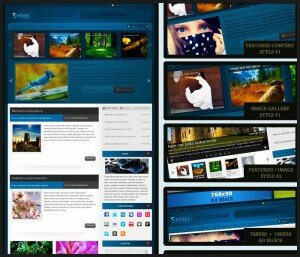 DOWNLOAD // PREVIEW
Theme Features:
Premium, Flexible, Neutral design that can be used by any niche centred site.
jQuery featured. [+]
Valid XHTML 1.0 Strict and CSS 3.0
Options Page.
Compliant with WordPress version 3.5+. 2.7, 2.8, 2.8.1, 2.8.2, 2.8.3, 2.8.4, 2.8.5, and 2.8.6.
Multi-Layout
Magazine or Blog. [+]
Multi-Post-Styling
named as recent and mini posts. [+]
Multi-Column Sidebar
1 or 2 column (2 or 3 column). [+]
Collapsible Sidebar and Footer [J][+]
Columnized Footer
3 column. [+]
Widgetized Sidebars (as three
Top, left, and right) and Footer (all three) columns. [+]
Multi-Level dropdown (vertical) navigation menu. [J] [+]
Tested on major browsers like
FireFox, IE, Chrome, Opera, Safari, SeaMonkey and a few more, on different resolutions.
SEO Optimized.
Image Gallery
Two Styles | Title Option | Fetch post from specified category. [J] [+]
Featured Content
Two styles | 5 slide effects | Pager | 3 Text block effects. Fetch post from specified category. [J] [+]
Featured Video, fetch the video from either options page or specified category. [+]
Auto fetch image from post, or custom value can also be used. [+]
Image/Text logo (.PSD is packed) with fade in-out effect. [J] [+]
Up to Eight 125×125 ad blocks, two 480×60 ad block, one 768×90 and 180×90, and two post advert and shortcode. Each option can either be replaced by own html, think AdSense. [J] [+]
Post Advert shortcode
user can specify a shortcode that can be used inside any post to call the specified post advert. Default is [ad]. [J] [+]
Paginated.
Paginated Categories in post style.
Slide tabs. [J] [+]
Post voting inbuilt (check single page for preview)
Animated sidebar list.
Proper threaded/nested comments.
Auto Image-Resizer.
Text Resizer.
Breadcrumbs. [+]
"About Me" on sidebar. [+]
Author page, useful for multi-author sites. [+]
"About author" on posts' pages. [+]
Announcement System. [+]
Related Posts
with small thumbnails. [+]
Most Commented. [+]
Recently Updated
lists the most recent modified posts. [+]
Recent posts. [+]
Recent comments with Gravatars. [+]
Popular posts. [+]
Global Translation. [+]
Gravatars ready.
FeedBurner Email Subscription, automatically installs as widget [Spexel (FeedBurner)]. Three styles [designs].[+]
Twitter ready, also, automatically installs as widget [Spexel (Twitter)]. Two styles [designs].[+]
FlickR ready, and is in fade in-out slide or simple 4 block thumbnails. [J][+]
Inbuilt Social bookmarking [J][+]
Inbuilt Social Networking Profiles [+]
Flash Tag Cloud.
A complete newbie-friendly documentation, option page FAQs, and theme support via email and Forum.
[+] = configurable from theme administration panel (options page).
[J] = JQuery effects.
[m] = modified plugin.