ZEOAL NOW COMPATIBLE WITH WORDPRESS 3.5+ VERSION
A premium quality multi-column multi-style multi-function collapsable sidebar AJAX featured theme with advanced features.
Zeoal WP Theme is built for all-type niche, highly customizable backend and the ability to be used as a traditional blog and magazine styled WordPress powered sites. It has generic, light and flexible design and framework that makes this theme extremely effective for any niche centered website.
This theme has everything inbuilt an average WordPress user would ever need to make their WordPress powered site successful. Just like my previous theme, this one too features a heck load of options and features, and as far as I've counted this theme is powered from over 130+ customizable options – certainly rare for a "free" theme. It works out-of-box without configuring all those options, of course.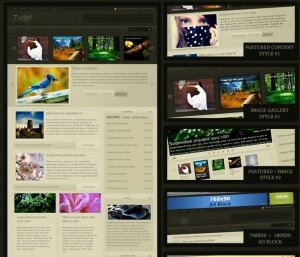 DOWNLOAD // PREVIEW
Theme Features:
Premium, Flexible, Neutral design that can be used by any niche centred site.
jQuery featured. [+]
Options Page.
Compliant with WordPress version 3.5+. 2.7, 2.8, 2.8.1, 2.8.2, 2.8.3, and 2.8.4. Yes, it also works on v2.8.0, there's a version detection inbuilt and a FIX for that specific version.
Multi-Layout: Magazine or Blog. [+]
Multi-Post-Styling: named as recent and mini posts. [+]
Multi-Column Sidebar: 1 or 2 column (2 or 3 column). [+]
Collapsible sidebar [+]
Smooth scrolls.
Columnized Footer 3 column. [+]
Widgetized Sidebars (as three: Top, left, and right) and Footer (all three) columns. [+]
Multi-Level dropdown (vertical) navigation menu. [J] [+]
Tested on major browsers like: FireFox, IE, Chrome, Opera, Safari, SeaMonkey and a few more, on different resolutions.
SEO Optimized.
Image Gallery: Two Styles | Title Option | Fetch post from specified category. [J] [+]
Featured Content: Two styles | 5 slide effects | Pager | 3 Text block effects. Fetch post from specified category. [J] [+]
Featured Video, fetch the video from either options page or specified category. [+]
Auto fetch image from post, or custom field can also be used. [+]
Image/Text logo (.PSD is packed) with fade in-out effect. [J] [+]
Up to Eight 125×125 ad blocks, two 480×60 ad block, one 768×90 and 180×90, and two post advert and shortcode. Each option can either be replaced by own html, think AdSense. [J] [+]
Post Advert shortcode: user can specify a shortcode that can be used inside any post to call the specified post advert. Default is [ad]. [J] [+]
Paginated.
Paginated Categories in post style.
Slide tabs. [J] [+]
Post voting inbuilt (check single page for preview)
Proper threaded/nested comments.
Author Highlighted comment.
Auto Image-Resizer.
Author Page.
Text Resizer.
Breadcrumbs. [+]
"About Me" on sidebar. [+]
Author page, useful for multi-author sites. [+]
"About author" on posts' pages. [+]
Announcement System. [+]
Related Posts with small thumbnails. [+]
Most Commented. [+]
Recently Updated: lists the most recent modified posts. [+]
Recent posts. [+]
Recent comments with Gravatars. [+]
Popular posts. [+]
Global Translation. [+]
Gravatars ready.
Facebook Connect Ready.
FeedBurner Email Subscription, automatically installs as widget [Zeoal (FeedBurner)]. [+]
Twitter ready, also, automatically installs as widget [Zeoal (Twitter)]. [+]
FlickR ready, and is in fade in-out slide or simple 4 block thumbnails. [J][+]
Inbuilt Social bookmarking [J][+]
Inbuilt Social Networking Profiles [+]
Flash Tag Cloud.
Theme support via email.
Options Page:
General
Settings
Header
Layout
Social Media
Featured/Slide
Image-Gallery Slide
Featured Content
Featured Video
Navigation
Navigation
Top Navigation
Footer
Ad Management
768×90 Advert
468×60 Advert
125×125 Advert
Post Advert
[+] = configurable from theme administration panel (options page).
[J] = JQuery effects.
[m] = modified plugin.